Quick Start Video
If you haven't already, please watch the 6 minute quick start video. It will answer many questions you might have.
User Permissions
In PagerTree there are 2 permission levels, Administrator and Non-Administrator. Their abilities are outlined in the following table.
| Object | Administrator | Non-Administrator |
| --- | --- | --- |
| Users | view, add, edit, delete, invite | view, edit themselves only |
| Teams | view, add, edit, delete | view |
| Integrations | view, add, edit, delete | view |
| Schedules | view, edit | view |
| Reports | view | view |
| Broadcasts | view | view |
| Maintenance Windows | view, add, edit, delete | view |
| Stakeholders | view, add, edit, delete | view |
| Routers | view, add, edit, delete | view |
| Automations | view, add, edit, delete, run | view, run |
In addition to the above there are special permissions, namely:
Billing Administrator - ability to view, add, update billing information and subscription
Broadcast - ability to create broadcasts
User Onboard Flow
Most of the user on-boarding experience is automated. As an administrator there are several options to onboard your team.
Flow #1 - Admin Creates User - Works best for small teams (up to 10 users)
Flow #2 - Invite Link - Works best for medium teams (between 10-50 users)
Flow #3 - Mass Import - Works best for large teams (51+ users)
Note: It's imperitive that users click the invite link in the e-mail! Only by using the invite link can they join your account.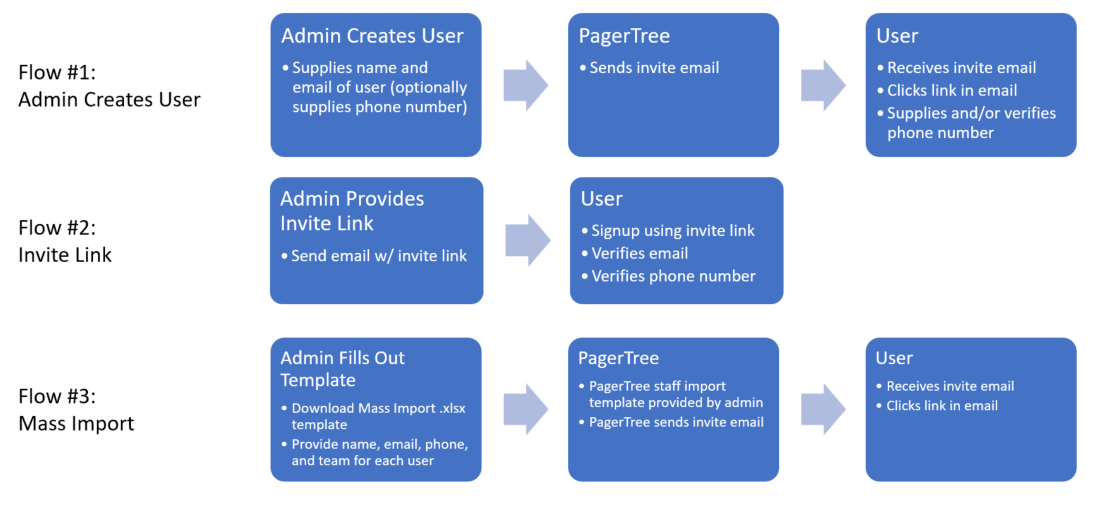 Invite Email
Note: It would be a good idea to tell your security team and users to expect an invite email from PagerTree before adding them to PagerTree.
If a user receives an invite email, the email will have the following properties:
From: donotreply@pagertree.com
Subject: 🌴 Join [Company Name] on PagerTree
Mailed-By: us-west-2.amazonses.com
Signed-By: pagertree.com
Security: TLS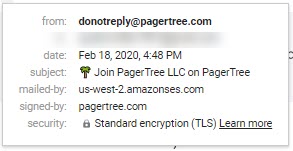 The email will look like this: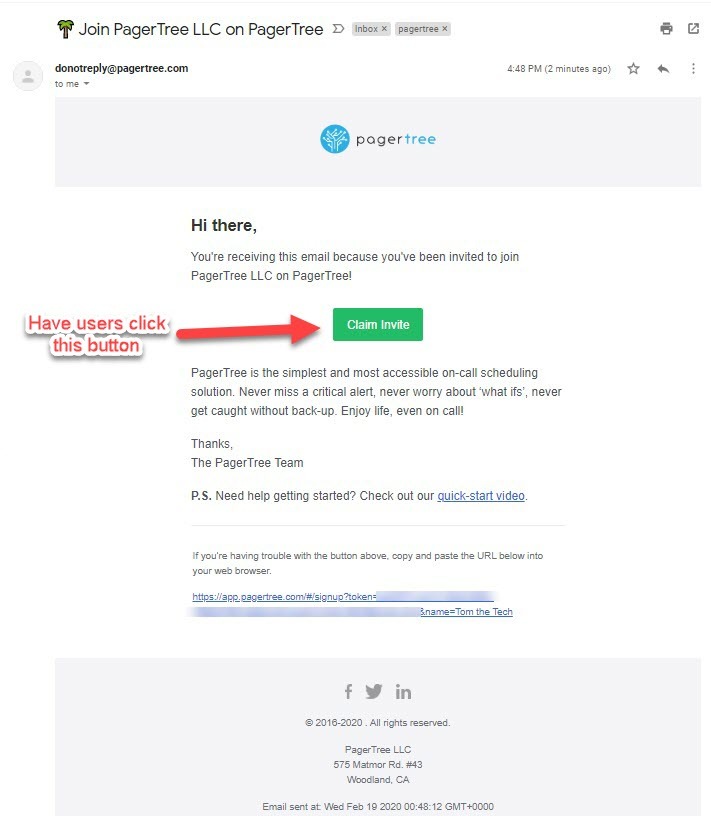 Materials for Users
This is a shortlist of items you can distribute to your users.
Bypass Do Not Disturb Settings - Have users follow this documentation to bypass "Do Not Disturb" mode on the Android or iPhone.
Important Numbers - PagerTree uses various numbers for sending sms and voice notifications. Download the PagerTree vCard to create a phone contact for PagerTree.
Important Concepts
The following are important concepts that will build a foundation for your understanding of how PagerTree works.
Alert Workflow
As a reference, the diagram below shows the high level workflow for alerts and how they move within the PagerTree system.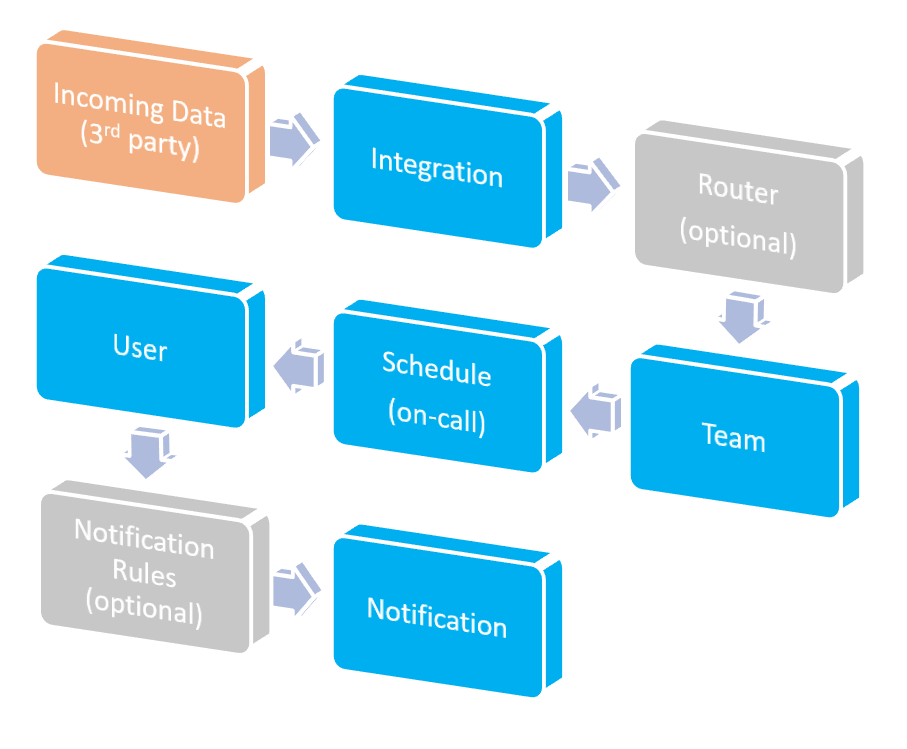 Check out the following video, for a more in-depth explaination of the above diagram.
Schedules and Escalation Rules
This 4 minute video that explains how to create, edit, and delete on-call events. It also explains how escalation rules work.
Managing A Team
This 3 minute video will show you how to add and remove team members. It will also show you how to set handoff, drop, and stakeholder notifications for a team.
Broadcasts
Broadcasts are a great way to send mass messages to groups of people without triggering the alert workflow. This 3 minute video will show you the two types of broadcasts you can create.
---